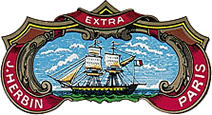 From J Herbin of France, we have a fabulous range of illuminated-style initial seals and a myriad of different coloured sealing wax to add the finishing touch to your letter, invitation, promotional item or gift wrapping.
La Societe J Herbin,  Maitre Cirier a Paris, was established in 1670. Since then, generations of remarkable people from Louis XIV to Coco Chanel have used his traditional sealing wax.
J Herbin was a sailor, and from his many journeys to India, he brought back to Paris formulas for manufacturing sealing wax. His special lacquer formula improved the quality of the seals in adhesion and neatness, helping him to become famous throughout the kingdom. Then, as today, sealing wax was used for documents and correspondence, but also in decoration and bottling. J Herbin has supplied Chanel from its beginning with wax used for finishing touches on their perfume bottles.
J Herbin is well known around the world as one of the highest quality sealing waxes ever made, and the company continues its long tradition of wax production in France today.
We include a sheet of 'Hints for making Wax Seals' when your make your wax purchase.

Each high quality initial seal measures 19 mm square, and is accompanied by a varnished wooden handle. The seals are perfect for sealing letters, invitations, or for use in other creative projects.

























These long traditional wax batons have a rich lacquer finish, and are suitable for documents, presentations, art work and bottling. Each stick measures approximately 22 cm long and makes approximately 50 standard size seals. Choose from nine fabulous colours.