If the standard wall calendar is too large, this selection of Medium Wall Calendars is your answer.
Click on each calendar to view the back showing each monthly image.
These fabulous Italian Art Calendars have been produced by the Balocchi family at Istituto Fotocromo Italiano for three generations, from their printing factory in central Florence.
Printed on Italian laid finish paper, these calendar images are perfect for framing and collecting, and measure 24.0 cm x 34.0 cm.
Enjoy a new archival image each month from the Balocchi archives.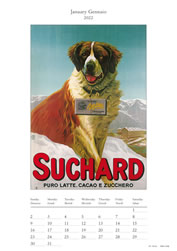 Inside Page Layout
An assortment of other various medium sized calendar titles, with beautiful images to enjoy throughout the year.