These stylish Guest Books, handmade in Florence from a beautifully smooth leather, are available in either a completely blank format, or with a smart but simple prompt section, for each guest to write their sentiment and contact details in.
They are landscape in orientation, so measure 21.5 cm high x 26.5 cm wide, and there are 92 classic cream pages.
These Landscape Blank Notebooks are perfect for use as a sketchbook, journal, log, memorial book or as a guest book for weddings and other important events.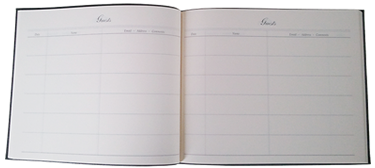 These exceptionally high quality Guest Books enable a variety of uses, such as: a boutique hotel guest book, a wedding guest book, memorial book, or ship's log.